In My Dreams: Travel Destinations for 2017
When I sat down and wrote up my travel plans for 2016, I didn't really anticipate that I'd make it to most of the places on my list. Yet somehow, it happened. Apart from all the places I said I wanted to visit in the UK. Really dropped the ball on that one.
I'm entering 2017 in completely different circumstances. I'm living on the other side of the world and my travel preferences have changed.
On top of that, I really have no idea of what next year will bring. In that, I dunno where I'll be living (Melbourne or Sydney are pretty safe bets, but who knows), where I'll be working or what I'll be doing.
On the one hand, it's frightening. On the other, I'm excited! Who knows what the future holds?
For that reason, I'm compiling a list of wannabe travel destinations, with the knowledge that I'd be incredibly lucky to make it to two, or maybe even three destinations on the list (the ones in Australia, at least!). Which is why these wants and desires exist mainly in my dreams.
Yet, who knows. Sometimes dreams manifest themselves into reality.
Without further ado, here is my list of dream travel destinations for 2017!
Perth, Western Australia
I've always thought that it's important to get to know your own country before stepping foot out on into the world.
We Australians are both lucky and unlucky in this regard. Many of us do get the chance to see a chunk of our country before travelling abroad, because it's cheaper and easier where family holidays are concerned.
Yet, our country is pretty big – it's hard and probably impossible to see and do everything.
I had a personal goal from pretty early on to at the very least visit all the Australian capital cities. Perth, along with the entire state of Western Australia has been evading me for my entire existence.
It's not surprising – it's often cheaper to fly to New Zealand from Sydney than it is to Perth. And it's three hours compared to a distance of five. Not that I've been to NZ either… ahem.
In any case, it's time to set foot on the Western Coast of Australia. I still can't believe I made it to Darwin before Perth, but there you go.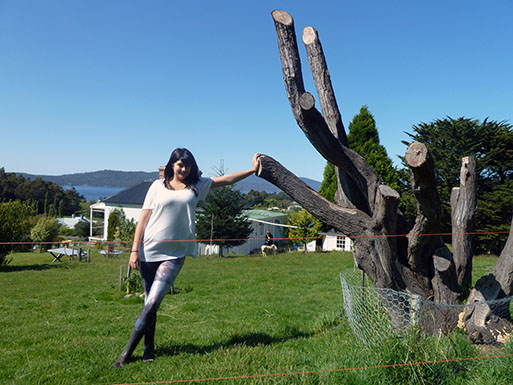 Tasmania
Tasmania is not a new destination – I visited in 2011 and absolutely loved it.
As a result, I've been banging on about how great the state is to anyone who will listen for years now – particularly my long-suffering boyfriend.
A dream-trip (this is a list of dreams after all) would be to drive from Melbourne, catch the Spirit of Tasmania to Devonport and drive around the island for a couple of weeks. Actually, it's not the stuff of dreams – if there's any holiday I get to do this year, it'll be this. It's on the internet now, so it has to happen.
PS. There was about twenty places in Australia that I could have smacked into this list – I had to limit myself to two!
Vietnam
I've never set foot onto South East Asia. This makes me sound like both a bad traveller and Australian. I know.
Can't really justify it beyond saying I didn't because I never wanted to. The way I saw it, Australia already had a surplus of beautiful beaches and pretty good Asian food. It was Europe that pulled me, as it was so vastly different from everything I already knew.
After being away from Australia and by extension Asia for close on three years, my interest in Asia is growing. Plus I'm so close now – SE Asia is only a mere eight hour flight away! (Cough, cough).
If I could go anywhere in SE Asia, it would undoubtably be Vietnam. If only because I really love Vietnamese food.
Taiwan
All the above being said, the two places I have visited in Asia (Japan and Kyrgyzstan) absolutely blew my mind. One place that I tend to hear only positive things about is Taiwan.
I'll admit, it's mostly due to the food – I would particularly like to feast at the toilet themed restaurant for no discernible reason. Taipei in particular seems like a fun, vibrant city and I'd be keen to check it out for myself.
Hawaii
I'm 99% sure I'll be heading to America later on in the year for an event and would be pretty stoked to check a few more states off my list.
Hawaii has held a place in the top three for awhile now and it's pretty accessible for Australia (there are some seriously cheap return flights constantly rolling around.) I've been wanting to have a proper stopover on the way to Europe or the U.S. for awhile now and one of Hawaii's eight islands might be a nice place to do so.
Fiji
I've also never visited an island in the South Pacific (not sure what I was doing for the first 24 years of my life). If I were to visit anywhere, it would probably be a toss up between Vanuatu or Fiji.
Crystal clear water, white sand beaches and a bit of relaxation. Yep, that sounds good after a year as nutty as 2016 has been. (PS. Here are some do's and don't for visiting Fiji).
Shetland Islands
And now for something completely different!
I can't help but feel that we'll be setting foot in Europe before the year is out – I did book a return ticket, after all.
There were a few places in Europe that I was a bit bummed to have not spent more time in. As I said recently, Scotland was pretty high up on the list. Although I made a couple of trips up to Edinburgh and Glasgow over the last couple of years, I have yet to make it any further north than that. This is a fact that I find to be most upsetting.
The Shetland Islands seem like a beautiful amalgamation of two things I (think I would) love – the Nordic countries (for sure) and the Scottish Highlands (what can I say, I have a hunch).
So that's my most definitely unachievable list of travel destinations for 2017. Your turn! Where do you have a burning desire to visit over the next twelve months?